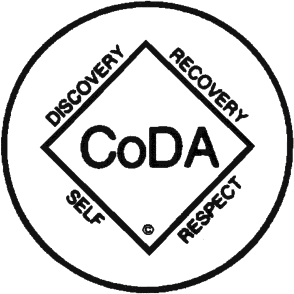 Meetings listed here are open to anyone who has a desire for healthy & loving relationships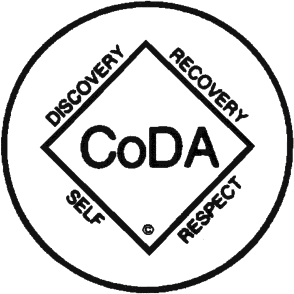 Downtown Brooklyn CoDA: BrooklynCoDA.org • New York City CoDA: nycCoDA.org • New York State CoDA Assembly: nysCoDA.org
Philadelphia Area CoDA IG: PhillyCoDA.org • New England CoDA Alliance: neCoDA.org • CoDA Canada: CoDACanada.ca
other meetings: Online • Phone • Forums & Chat • USA Meetings Map • NY State Meetings List
Always check LICoDA.org for current meeting information! If you have questions, you can find a Meeting Contact Person at CoDA.org, or call Long Island CoDA: 516-500-CoDA (2632) Online printing instructions

Click to view Long Island CoDA Meetings & Connection Information in Google® Calendar (best if viewed in "Week" mode)
DAY

TIME (ET)

MEETING TITLE

AVAILABILITY

ZOOM ID or PHONE #

PASSCODE

MEETING FORMAT

L

OCAL

M

EETINGS

(Click on a Title, or CoDA Meeting Number for more information)

F2F

Online

Phone

(Phone #s have dots)

(if needed)

(See details for more...)

MON

6:30 PM

Brooklyn CoDA (currently meeting in )[NY340]

⦿

⦿

830 0405 0808

175356

VARIED

MON
& FRI

7:30 PM

LIVE from New York CoDA Meeting[WW361] & [WW552]

⦿

⦿

731 4330 2958

221420

LIT/STEP

TUE

7:00 PM

Heartfelt Humility CoDA Meeting

¹

[WW574]

⦿

⦿

851 437 2469

¹

Click for PWs

VARIED

TUE

7:00 PM

Tue Night CoDA, Bethel Church, 10 Pine Tree Rd, Huntington Sta[NY366]

⦿

——

——

BEGINNERS

TUE

7:30 PM

Sayville CoDA (currently meeting in )[NY361]

⦿

⦿

836 4360 4587

529614

LIT/STEP

TUE

8:00 PM

Tue Night CoDA, Bethel Church, 10 Pine Tree Rd, Huntington Sta[NY014]

⦿

——

——

VARIED

WED

12:30 PM

Central Islip Libary, 33 Hawthorne Ave,

f

ace

-2-f

ace & (Call-in)[WW582]

⦿

⦿

Ph: 425.436.6326

151642

LITERATURE

WED

7:30 PM

Port Jeff Library

f

ace

-2-f

ace CoDA Meeting

NOTE:

Library requires masks![NY376]

⦿

——

——

First Meeting and Group
Conscience Feb 16, 2022

THU

7:15 PM

Bridgehampton CoDA (downstairs, St Ann's Church)[NY248]

⦿

——

——

LIT/SPKR

FRI

7:00 PM

Freeport Library

f

ace

-2-f

ace CoDA Meeting

NOTE:

Library requires masks![NY320]

⦿

——

——

STEP/SPKR

FRI

7:30 PM

Friday Night Precious & Free CoDA Meeting[WW627]

⦿

⦿

868 0353 3518

861353

STEP/SPKR

SAT

10:30 AM

Bellerose Free to be Me CoDA Group,

f

ace

-2-f

ace & [NY271]

⦿

⦿

⦿

880 8191 6726

854086

LIT/VARIED

S

TUDY

G

ROUPS

WED

7:00 PM

CODA Step Study Eastern Time Meeting[WW376]

⦿

⦿

848 8764 1199

474029

STEP STUDY

FRI

2:30 PM

Friday Afternoon CoDA Listening Room on [WW623]

⦿

⦿

721 0156 2242

772634

BGNRS/VARIED

FRI
& SAT

7:15 PM

The First 14-Days Workbook Study Group — PHONE MEETING[WW436] & [WW437]

⦿

Ph: 717.908.1834

475271

Workbook link

SUN

3:30 PM

Sunday Step Study — PHONE MEETING[WW134]

⦿

Ph: 717.908.1834

475271

STEP STUDY

SUN

8:15 PM

Phoenix, AZ, Step-by-Step (currently meeting on )

²

[AZ012]

⦿

⦿

863 5119 6148

²

Click for PWs

STEP STUDY
All times listed on this page are EASTERN TIME (ET) unless stated otherwise

Additional meetings are available from the drop-down Meetings Menu at CoDA.org
*

All donations go directly to support Long Island CoDA activities
Legend: = F2F (Face-2-Face) = ZOOM = Call-in
Updated: 12:00 PM, 1/13/2022
The Twelve Steps of Co-Dependents Anonymous | The Twelve Traditions of Co-Dependents Anonymous

The Twelve Steps & Twelve Traditions of Co-Dependents Anonymous are reprinted from www.CoDA.org with permission of Co-Dependents Anonymous, Inc., (CoDA, Inc.). Permission to reprint this material does not mean that CoDA, Inc., has reviewed or
approved the contents of this publication, or that CoDA, Inc., agrees with the views expressed herein. Co-Dependents Anonymous is a fellowship of men and women whose common purpose is to develop healthy relationships and is not affiliated with
any other 12 step program. Copyright © 2010 Co-Dependents Anonymous, Incorporated, and its licensors - All Rights Reserved. The Twelve Steps & Twelve Traditions reprinted, and adapted with permission of Alcoholics Anonymous World Services, Inc.
---
Thank you for your continuing interest in and support of LICoDA
Keep coming back. It works when you work it, you're worth it, work it!


NOTE: Links listed here are provided as a courtesy. Listing them here does not imply endorsement of those sites, or any outside enterprise that may be referenced therein.
CONFIDENTIAL — The list of CoDA Meetings is NOT to be used for mailing under any circumstasnce. © 2017- Long Island CoDA (LICoDA) Intergroup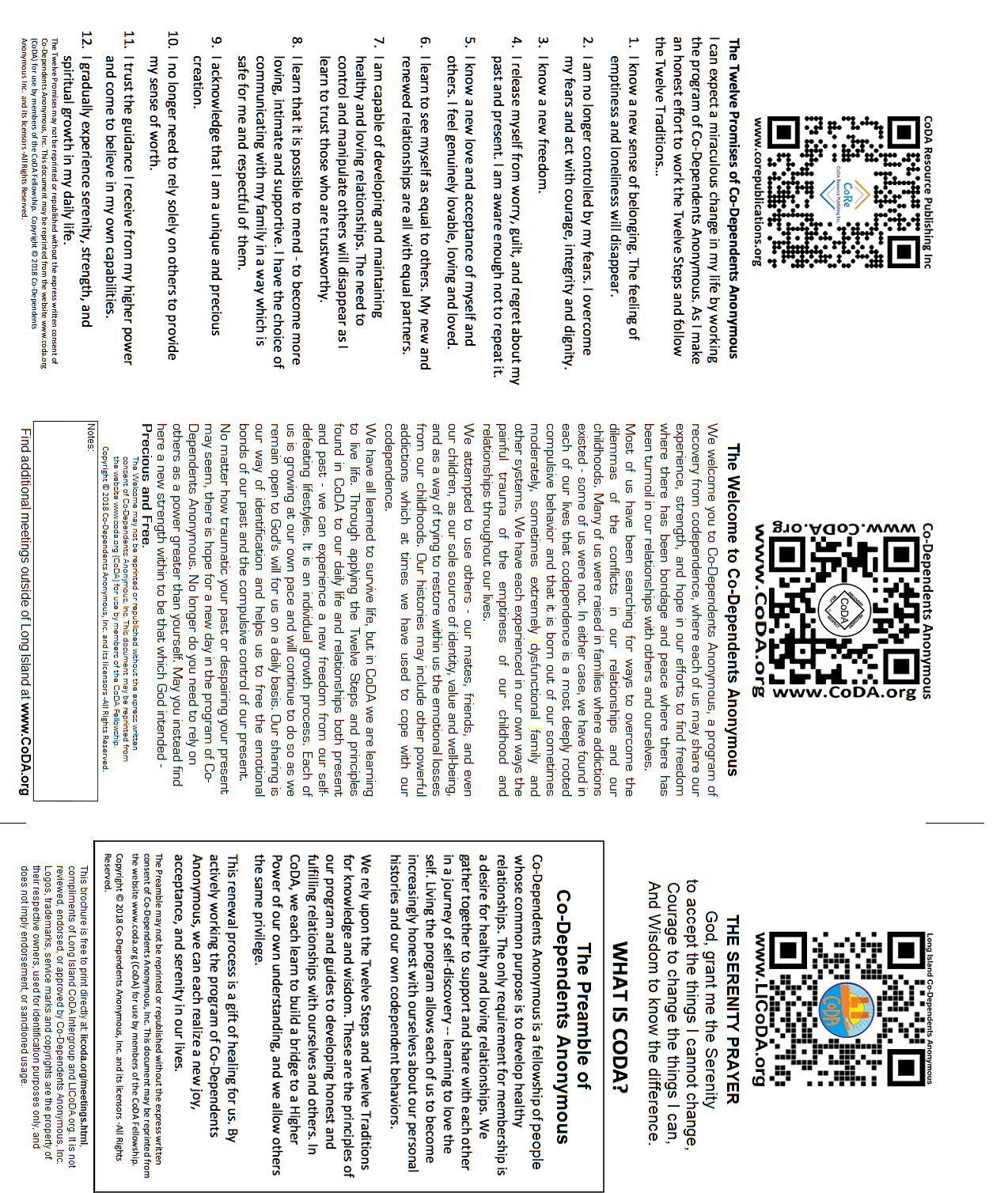 ---
NOTE: 2nd page intentionally placed sideways to facilitate printing a 2-sided Tri-fold (some assembly required☺)
PRINTING INSTRUCTIONS
PRINT AS A 2-SIDED TRI-FOLD
PRINT ONLY THE MEETING LIST
• Enable two-sided printing if your printer supports it,
• Set Margins to: "Default", or "Minimum"
or print page 1, then page 2 on the oposite side
• Set Pages to: "Custom/1" & Print
• Set Pages to: "Custom/1,2"
• Set Layout to: "Portrait"
PRINT ONLY THE SECOND PAGE
• Set Paper Size to: "Letter"
• Set Margins to: "None"
• Set Pages per sheet to: "1"
• Set Pages to: "Custom/2"
• Set Margins to: "None"
• Print & Fold
• Set Scale to: "Default"
• Set Two-sided to: "Print on both sides/flip on short edge"
• Set Options to: "Print Background graphics"
• Print & Fold
---